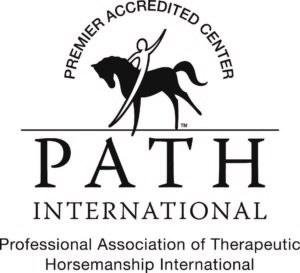 TROT continues to be a leader in innovative and therapeutic therapies by maintaining a distinguished title of a Premier Accredited Center by PATH, International.
What does this mean? It means:
- TROT is held to the highest standards. Every year, TROT reviews over 300 industry standards to verify we are exceeding all criteria needed to maintain our status. These standards include safety, equine management, mental health training, adaptability and inclusion for those living with disabilities, and that all programs are using current evidence-based models.

- The entire operation (programs, property and administration) undergoes a thorough audit every 5 years to ensure that all of the required standards are met.

- TROT's instructors are professionally trained and certified through PATH, Intl and are required to complete continuing education hours annually on a variety of topics including but not limited to: disability and mental health education, equine welfare, and advanced horsemanship training.
TROT is proud to be the only premier accredited center providing life-changing services for children and adults with special needs in the Greater Tucson area.
Interested in joining our team? TROT offers a CTRI Mentorship Program and would love to talk to you! Email TROT's Program Director Dora at dkafkaridou@trotarizona.org.